If you are looking for a professional residential letting and management service for a country house or cottage in The South, then look no further than The Country House Company.
With over 20 years experience in residential lettings, we provide a thorough, professional service for property owners considering letting their properties. We do this with attention to detail, letting and managing property for UK based landlords, overseas landlords and the landlords with portfolio's.
If you are considering letting your property, a member of our experienced team will meet you to discuss all aspects of the proposed let. We will provide you with comprehensive advice on safety, legislation, decoration, provision of furnishing and white goods, refurbishment or upgrading. We will guide you through the whole process of letting your property, simplifying and organising what can be a daunting task.
Our services for landlords include
• Tenant Find, Rent Collection and Full Management Service
• Tenant Find and Rent Collection Service
• Tenant find Service
• Short Term Licence Service
All our services are individually tailored to the requirement of each of our landlords, but we have summarised the core to help you clearly identify the most appropriate for your requirements in the table below.
Service Table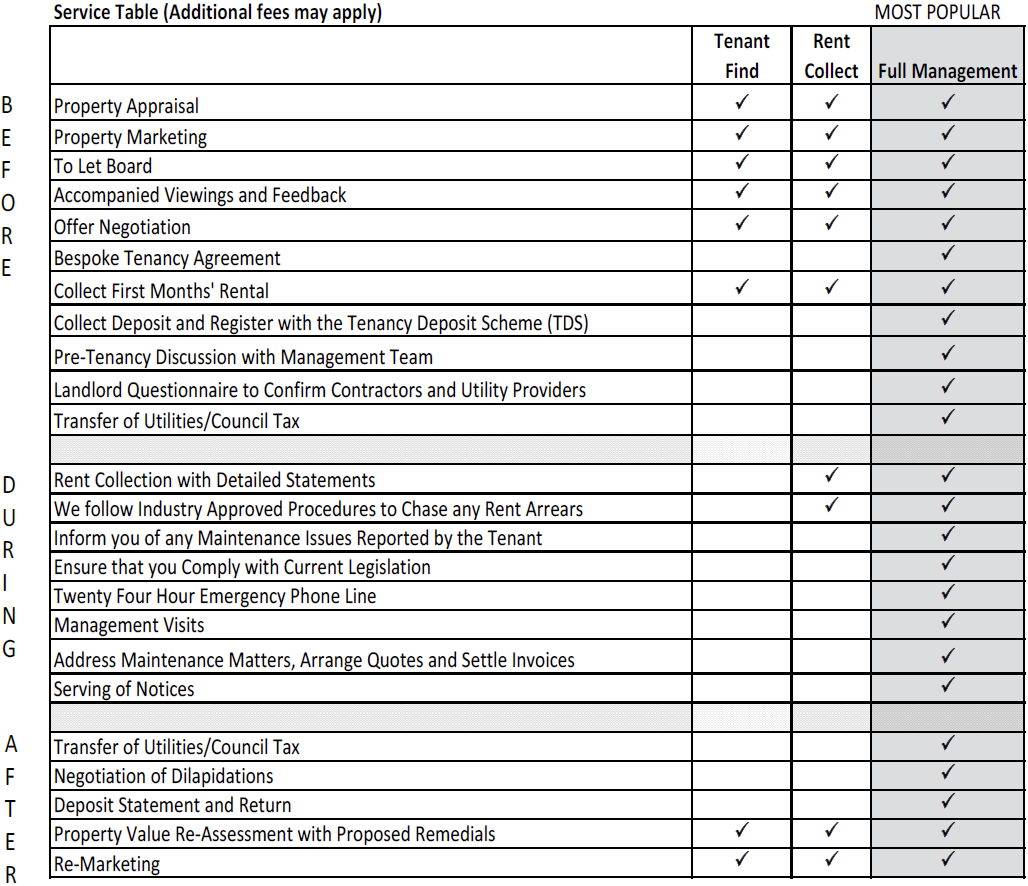 We can help you decide on the timing of the let, management of the grounds and house (ie whether or not gardener or cleaners are required), and the legal nature of the let.
As you would expect, integrity is at the heart of our approach. We are governed by the Association of Residential Letting Agents' (ARLA Propertymark) code of practice and we adhere to the standards laid down by the Royal Institute of Chartered Surveyors. This combined with our proven track record and experience, will help you secure the right tenant.
We have a large database of applicants including many from London looking for either weekend homes or a permanent move out of London plus local and overseas applicants.
Our understanding of client needs and property means we are often able to match tenant to home quickly without the need for advertising.
We can also provide you with information with regards to short term lets. Please click here for more information.
Contact Claudia Hunt on 02392 633 022 or email claudia@countryhousecompany.co.uk
Click to register as a Landlord
Click to view Management Services
Click to view Landlord Fees
Click to view Additional Fees