The Country House Company are Estate Agents who provide Property Management, Lettings and Sales across Romsey and surrounding areas in Hampshire and Wiltshire.
Romsey is a charming, traditional market town and lies midway between the historic cathedral city of Winchester and the New Forest (a short distance from junction 3 of the M27 motorway) .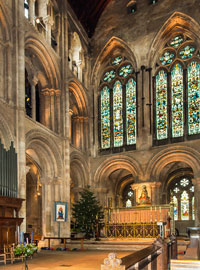 The historic core of the medieval town survives in the old street pattern. It is dominated by the magnificent Romanesque Abbey, built in the 12th and 13th centuries as the final church of the Benedictine nunnery that had been founded in Saxon times. The medieval streets and walkways provide an abundance of small specialist shops which offer a wide selection of merchandise. Here, alongside specialist fashion outlets, gifts and antique shops, you will find the butcher, greengrocer and delicatessen. Take a break from shopping and enjoy one of the many places to eat with a choice from traditional tea rooms and restaurants to takeaways.
Romsey is a friendly town to visit or live in largely due to a very positive community spirit, sustained through considerable growth spurts over the past fifty years. It has a thriving local community with many clubs and cultural activities such as rambling, choral singers, art and craft exhibitions, societies, astronomers, archaeologists and a wealth of sporting activities. As well as the popular Romsey Rapids Sports and Swimming Centre, activities also include badminton, hockey, cricket and golf.
Romsey is the Southern Gateway to the beautiful Test Valley and sits astride the river crossing at Middlesbridge, a strategic staging point on the route west to the King's hunting rounds in the New Forest. Today, it retains its street markets as well as a thriving town centre with shops, restaurants, pubs and cafes and historical sites.
From pre-school and infants primary right up to senior schools there is a good choice as well as many private schools such as Emberley Park School, Hampshire Collegiate, King Edwards VI Southampton and St Swithuns to name but a few.
For further details on schools near Romsey see www.schools-search.co.uk
The town of Romsey lies within Southampton and S W Hampshire and contains the villages of Braishfield, Lockerley, Melchet Park and Plaitford, Michelmersh, Mottisfont, Romsey Extra, Sherfield English and Wellow with Stockbridge being some 12 miles north of Southampton. Ringwood is approximately 12 miles east and Winchester lies to the West.
Estate Agents Romsey
As Estate Agents covering Romsey we are always looking for suitable Romsey property to sell or rent for clients. If you have property you think would be suitable, then please do not hesitate to make contact on 02392 632275 – we would be very happy to assist you. Alternatively if you are looking for property in Romsey please check our current properties for sale here and rent here.
Enquiries regarding residential lettings in Romsey should be made to The Country House Company. We pride ourselves on the personal and professional service we provide and are happy to help with any queries concerning property rentals, sales and residential property management.