The Country House Company are Estate Agents who provide Property Management, Lettings and Sales across Kingsclere and surrounding areas in Hampshire and Wiltshire.
Much of the charming village of Kingsclere is a designated conservation area with 68 buildings listed as of Special, Architectural or Historical Interest. Such beautiful architecture lays testament to the fact that there has been a prosperous village on the site since medieval times. Countryside properties offered as house rentals in Kingsclere are not on the market for long.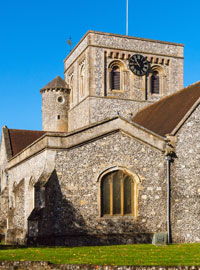 The historic street pattern based on St Mary's Church and Old Market Square is still in existence with the main streets leading to Basingstoke, Newbury and Overton. Kingsclere boasts a thriving community and has successfully managed to combine its history with the demands of the modern world without losing its integrity.
Kingsclere features its own library, police station, fire station, health centre, good schools and a comprehensive collection of shops. Supplement that with three fantastic old inns, an Italian restaurant, and it's easy to see why Kingsclere is an extremely attractive place to put down roots. Demand for houses to let in Kingsclere continues to remain high.
There are ample, scenic walking opportunities on Watership Down together with miles of cycle tracks and you can also follow the Kingsclere Millennium Trail.
Kingsclere is on the Hampshire/Berkshire border and surrounded by beautiful countryside. It lies close to the A339, which links Basingstoke (9 miles) and Newbury (7 miles). It also lies between the M3 and M4 corridors; this easy access to both making it a popular commuter choice. The mainline station at Newbury has a service to Paddington whilst Basingstoke station serves Waterloo. There is an hourly bus service to Newbury and Basingstoke and the nearest local station is Overton.
Estate Agents Kingsclere
As Estate Agents covering Kingsclere we are always looking for suitable Kingsclere property to sell or rent for clients. If you have property you think would be suitable, then please do not hesitate to make contact on 02392 632275 – we would be very happy to assist you. Alternatively if you are looking for property in Kingsclere please check our current properties for sale here and rent here.
There is an excellent range of quality rental properties and properties for sale in Kingsclere. Enquiries regarding residential lettings should be made to The Country House Company. We pride ourselves on the personal and professional service we offer and are happy to help with any queries concerning property rentals, sales and residential property management.