The Country House Company are Estate Agents who provide Property Management, Lettings and Sales across Haslemere and surrounding areas in Hampshire and Wiltshire.
Set in an Area of Outstanding Natural Beauty, Haslemere is a historic market town that boasts dramatically old foundations. Located on the borders of Hampshire and West Sussex, the timbered and tile-hung houses and cottages of Haslemere contribute to its status as one of the treasures of the Surrey Hills.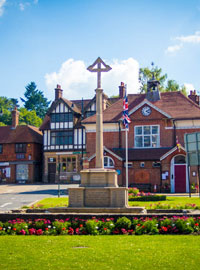 The main streets in the town are arranged in a T-shape with the High Street running south to North from the Town Hall. In 1956 Elizabeth I confirmed the charter for a weekly market and increased the annual fairs to two. Haslemere provides extensive shopping opportunities including the traditional and specialist shops found around the High Street and the shopping area of Wey Hill.
The many shops, restaurants and cafes in Haslemere add to the vibrant atmosphere of the town. The recently refurbished and celebrated Haslemere museum features numerous enticing exhibitions, while Haslemere Hall provides a platform for local theatre groups and film screenings. Dining opportunities abound both in this historic market town and the surrounding villages with choices ranging from luxury gastronomic restaurants to cosy country pubs.
One reason why property in Haslemere is in demand is the town's excellent access to the A3; Guildford and London. Properties to let in Haslemere are attractively positioned for commuters on the mainline with regular, direct services to London and Portsmouth. By road, the major airports at Heathrow, Gatwick, Stanstead and Southampton are easily accessible, as is the South Coast. With its proximity to the numerous attractions and places of interest nearby, it is no wonder that this delightful town continues to be a popular place in which to live and house rentals in Haslemere are increasingly in demand.
The popularity of Haslemere ensures that a lively community remains strong and there is a wealth of active groups, societies and associations focusing on arts, education, entertainment, music and sport. Together with a range of good local schools there are an impressive number of sought-after private schools in the area including the Royal School, St Ives, Amesbury, St. Edmunds, Highfield, Kind Edwards Witley and Churchers Junior School.
For full details on schools near Haslemere see www.schools-search.co.uk
Haslemere also enjoys close proximity to a plethora of attractive villages including Beacon Hill, Chiddingfold, Grayswood, Grayshott, Lynchmere, Liphook, Fernhurst and Lodsworth as well as the old market town of Petworth and Midhurst.
The sporting and leisure needs of locals and visitors are well catered for. As well as beautiful countryside for walking, riding and cycling, plentiful lakes provide excellent fishing whilst sailing is offered at Frensham Great Pond. Numerous challenging golf courses are within easy reach of Haslemere and local sporting complexes host matches for local, regional and national clubs including football, tennis, hockey, basketball, cricket, rugby and swimming to name but a few. Good recreational areas enjoy stunning views and Haslemere is also well placed to visit the Festival of Speed, motor and horse racing at Goodwood.
Estate Agents Haslemere
As Estate Agents covering Haslemere we are always looking for suitable Haslemere property to sell or rent for clients. If you have property you think would be suitable, then please do not hesitate to make contact on 02392 632275 – we would be very happy to assist you. Alternatively if you are looking for property in Haslemere please check our current properties for sale here and rent here.
There is an excellent range of quality rental properties and properties for sale in Haslemere. Enquiries regarding residential lettings in Haslemere should be made to The Country House Company, where we will be happy to help with any queries concerning property rentals, or supply any information on the property management services we offer in Haslemere. The Country House Company prides itself on the personal and professional residential property management service we offer.