The Country House Company are Estate Agents who provide Property Management, Lettings and Sales across Farnham and surrounding areas in Hampshire and Wiltshire.
Located on the western border of Surrey, Farnham is a charming Georgian market town steeped in history. The dominant feature of the town is The Castle, a magnificent relic that has been in existence for the better part of a millennium and which still governs proceedings in the town today.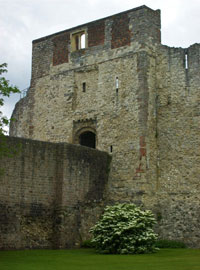 The town is surrounded by farmland and countryside, much of it belonging to the National Trust. The Castle is also encircled by around 320 acres of parkland; once used as a Civil War battlefield, today the parkland serves as a rather quieter, popular recreational site.
The town centre remains a colourful mix of cafes, restaurants, shops and market stalls, successfully combining the old with the new. Grand Georgian architecture frames the action, particularly along Castle Street, Downing Street and West Street, whilst pretty terraces and cobbled streets are positioned near the town's 12th century church. More substantial shopping facilities can be found in the nearest major town of Guildford, just a ten minute drive away.
Houses to rent and for sale in Farnham are popular partly because London Waterloo is reachable within the hour from Farnham's mainline station. The town is well linked by road as well and properties to let in Farnham are attractive to commuters with the nearby M3, M25, A3, A331 and South Coast routes opening up links to the rest of the country.
The 18th century brewery in Bridge Square has been transformed into a thriving arts centre providing a showcase for films, music and exhibitions. Those with a penchant for history will be pleased to discover the award winning Museum in West Street whilst those with an interest in fairways and greens will be delighted with the numerous good golf clubs in the area.
Farnham boasts an excellent choice of private and state schools and it is also home to the prestigious Surrey Institute of Art and Design, whose presence feeds into the cultural life of the town.
For full details on schools in the Farnham area please see www.schools-search.co.uk
Estate Agents Farnham
As Estate Agents covering Farnham we are always looking for suitable Farnham property to sell or rent for clients. If you have property you think would be suitable, then please do not hesitate to make contact on 02392 632275 – we would be very happy to assist you. Alternatively if you are looking for property in Farnham please check our current properties for sale here and rent here.
There is an excellent range of quality rental properties and properties for sale in the south of Farnham. Enquiries regarding residential lettings in Farnham should be made to The Country House Company. We pride ourselves on the personal and professional service we offer and are happy to help with any queries concerning property rentals, sales and residential property management.