A Bedales School team of 32 runners who took part in the Great South Run in Southsea on 20/21 October has so far raised £4,200 for two education charities.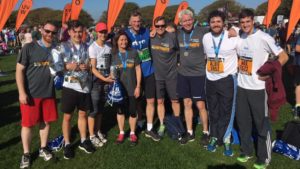 Pupils, staff, parents, alumni and friends of the school joined forces to run in glorious sunshine in the Great South Run races over the weekend. The junior and adult 5 km events were held on Saturday and featured 12 Bedales pupils and parents; 20 Bedales runners ran in Sunday's 10 mile race, which attracted over 20,000 competitors as one of the largest events in Europe's running calendar, and boasts Mo Farah and Paula Radcliffe as former winners.
Youngest team members were eight year-old Bedales Prep School pupils Annabel Rowell and Madeleine McNeill, and nine year old Benny McNeill. Top Bedales performers in Sunday's 10 mile race included friend of the school Max Walker (55'08), maths teacher Greg Clarke (1'11'12), and former Bedales student George Vaughan-Barratt (1'13'48). Special mention goes to parent Dupé Fouhy who ran in both the 5 km event on Saturday and Sunday's 10 mile race.
Donations are being shared between two charities, one international and one UK based: Cecily's Fund supports orphans and vulnerable children affected by HIV/AIDS in Zambia, enabling them to gain an education; the John Badley Foundation provides transformational opportunities for young people to benefit from a Bedales education through fully funded bursaries.
Basil Eastwood, Founder of Cecily's Fund and father of Cecily who attended Bedales from 1991-96, commented: "This was a wonderful effort by the Bedales community, supporting two charities which in their different ways are totally dedicated to the proposition that, especially for the disadvantaged, education changes lives. Cecily was working in Zambia when she died, and with this support Cecily's Fund will be able to give hope and education to over 40 orphans or vulnerable children."
Running team member, Applications Engineer, and former beneficiary of a John Badley Foundation bursary at Bedales Albie Waterton said: "The Great South Run is a great way to give back to the Bedales community. The day itself was a far warmer affair than last year and allowed people to perform to their best, whilst supporting the work of two great education charities close to Bedalians' hearts. The year on year effort via members of the school community – past and present – allows so many people who could really benefit from it, to experience the Bedales environment and make the most of it."
Sponsored by the Country House Company and fundraising platform Pledgit, the team is encouraging further donations which can be made online here.