The award-winning Hampshire Food Festival will return this July with over 60 tempting food and farming events. The festival is a chance to explore the stunning Hampshire countryside and meet the producers involved in keeping the county so flavoursome.
Discover what goes on behind the scenes with farm, distillery, brewery and vineyard tours. Walk with buffalo, visit the lavender fields, meet the dairy cows, sip the wine and tuck into afternoon tea on the farm. Have a lesson in food with classes from charcuterie making to vegetable talks and cake baking.
Pop-up events featuring Hampshire ingredients will include one with MasterChef winner Jane Devonshire taking place near Winchester where all profits will be donated to Ark Cancer Charity.
The Vineyards of Hampshire Wine Festival will see seven of the county's vineyards coming together at Cottonworth Vineyard. Guests will be able to tour the vineyard and taste wine from all the winemakers. A perfect way to discover more about the growing Hampshire wine scene!
With so many events to choose from across the county between 1-31 July there really is something for everyone. The well-established food festival is now in its seventeenth year and is co-ordinated by community interest county food group, Hampshire Fare.
Tracy Nash, commercial manager of Hampshire Fare commented: "July's Hampshire Food Festival is an opportunity for people to go behind the scenes of the county's thriving local food culture. See where our ingredients are grown and learn more about what our county is so good at producing. There's a chance to taste lots of delicious things along the way and meet the people behind the food."
At many of the events visitors will be able to grab the opportunity for a fun family photo at the food group's photo board. Sponsored by The Country House Company the board depicts a country scene drawn by local artist Simon Chadwick. Hampshire Fare and The Country House Company collaborated on the project to help engage the public, to highlight the people behind Hampshire's produce and to get as many people as possible showing their smiles in support of the local food scene.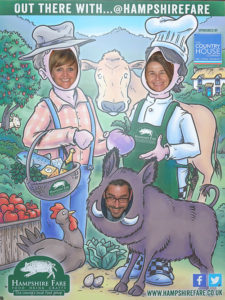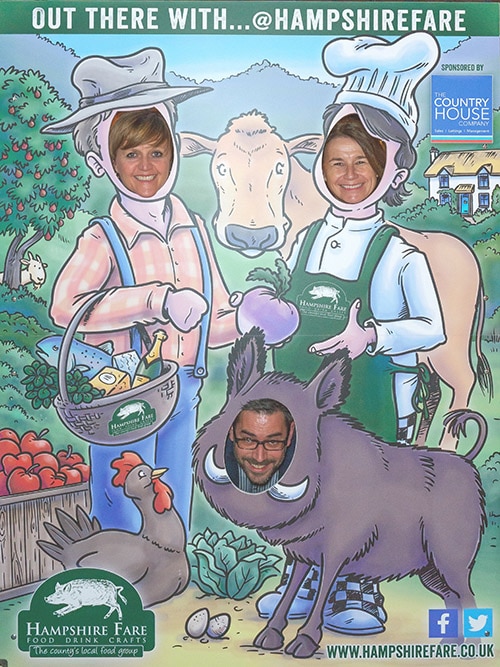 A full list of events can be explored on line at www.hampshirefare.co.uk. Free programmes are also available to pick up across Hampshire.