Sponsorship of events in the area has to be one of the more enjoyable aspects of marketing and particularly when the team at The Country House Company get involved. The photo board which is central to our joint marketing campaign with Hampshire Fare is being well received across the region at various events and was particularly well received at the Sparsholt Countryside Day on Saturday. Patrick Glynn-Jones, Head of Sales, joined in the fun and along with his daughters was entertained by various demonstrations and activities including sheep shearing, ferret racing, cattle show, pony rides, show jumping, cookery demonstrations, pedal tractor Grand prix and of course a souvenir photo in our photo board!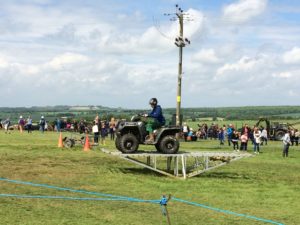 As Patrick commented;
"My two daughters and I spent a really enjoyable afternoon at The Sparsholt Country Fair on Saturday. There was an enormous amount to see and do with many stalls, demonstrations, country animals and food offerings…and all in pretty good weather. The Hampshire Fare board which we have sponsored this year was proving very popular and so Livi, Martha and I did our bit and stuck our faces into the spaces! This really is an event worth attending next year.
Tracy Nash, Commercial Manager at Hampshire Fare added
"We are really enjoying taking our new photo board to events across the county and beyond. It appeals to people of all ages and really cheers people up as they photograph their friends and family posing away! For us it is about building awareness of our food's link to the Hampshire countryside and the board, made possible through The Country House Company, does this in such an engaging way"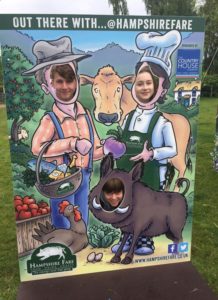 Next on the event calendar The Alresford Watercress Festival Sunday 21st May so The Country House Company look forward to lots of happy faces in our photo board!
For full details on Hampshire Fare see www.hampshirefare.co.uk 
For full details on The Alresford Watercress Festival see www.watercressfestival.org